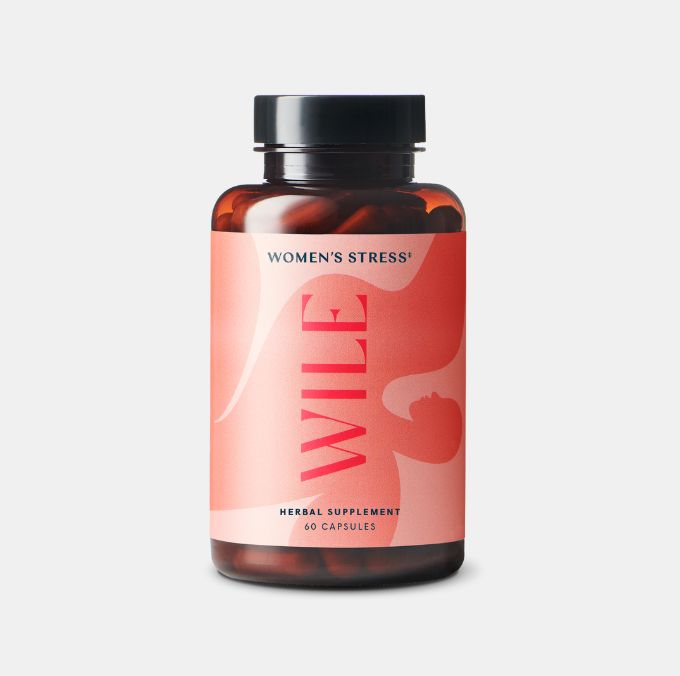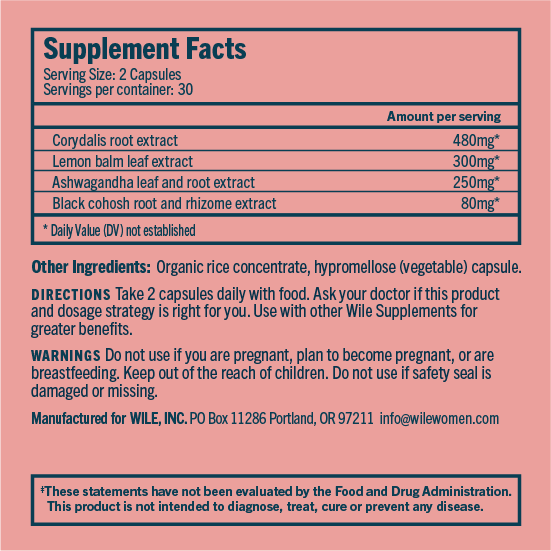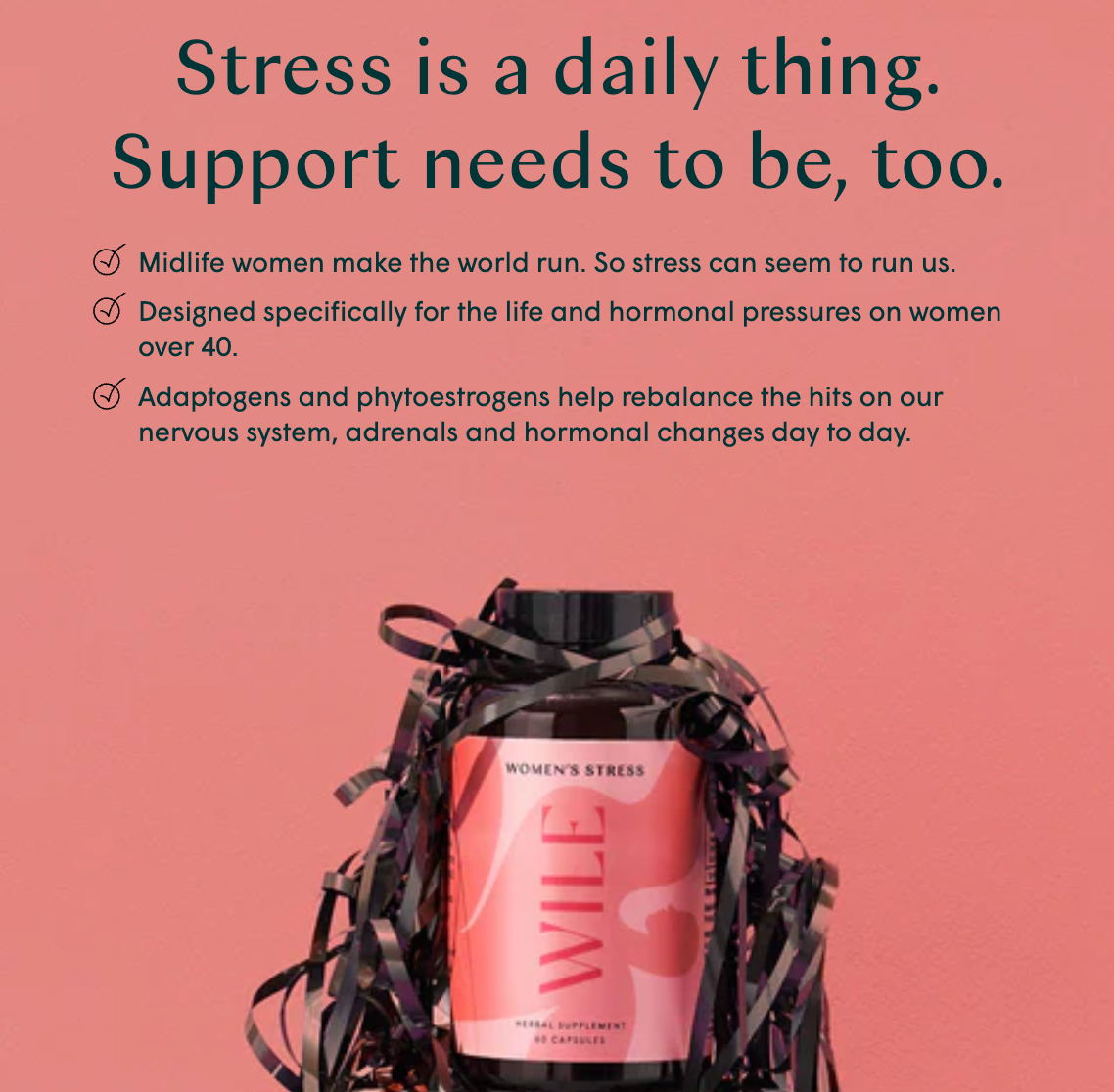 Women's Stress
Goodbye Stress
Effective daily support for ongoing stress and shifting moods, due to changing hormones or life. Improve resilience, outlook and mood.
30 day supply.
• Clinically-Backed
• Vegan
• Naturopathic-Formulated
• No Artificial Ingredients
Benefits

Stress physiologically does hit us differently after 40 or 50. Formulated specifically for grown women in this life stage, as hormones shift and stress often increases. - Persevere and feel better despite life's demands - Reduces tension in body and mind - Soothes irritability and mood swings - Adaptogens build stress resilience - Improves cortisol levels and nervous system response
How To Use

As a dietary supplement, take 1 capsule twice daily with food or as recommended by a healthcare professional. - Combine with any other Wile supplements to personalize your regimen - Safe to take long-term - Recommend taking with breakfast and dinner
Material/Ingredients

Corydalis root extract — 480mg
Lemon balm leaf extract — 300mg
Ashwganhda leaf and root extract — 250mg
Black cohosh root and rhizome extract — 80mg

CORYDALIS: Known mood de-swinger, this calming herb has other hormone mellowing bonuses for women over 40. LEMON BALM: A calming herb also used to sharpen focus, alleviate brain fog and bring antioxidant protection. ASHWAGANDHA: A traditional remedy for increased energy, stamina, and physical and mental performance, along with mood-enhancing and stress resilience. BLACK COHOSH: Proven to help irritability and mood swings midlife, as well as tempering other signs of perimenopause.
FAQs

1) Are Women's Stress capsules safe to take every day? Yes. Our formulas are made up of all natural ingredients and can be used for daily support with no long-term side effects. 2) Can I use Women's Stress capsules with other medication? Our products are all-natural and can be used in conjunction with other Wile products. Please speak to your primary physician before taking Women's Stress capsules with other medications. 3) Are there clinical studies supporting Women's Stress? Ingredient studies include: Wu H et al. 1H-NMR-Based Metabonomic Study on the Anti-Depressive Effect of the Total Alkaloid of Corydalis Rhizoma Molecules 2015;20(6):10047-64 (PMID: 26035102) Scholey A et al.Nutrients.2014.Anti-stress effects of Lemon Balm containing foods' Ghazizadeh J et al. The effects of lemon balm (Melissa officinalis L.) on depression and anxiety in clinical trials: A systematic review and meta-analysis Phytother Res 2021; Online ahead of print(PMID: 34449930) Lopresti AL et al. An investigation into the stress-relieving and pharmacological actions of an ashwagandha (Withania somnifera) extract. Medicine 2019;98(37):e17186 (PMID: 31517876) Auddy, Biswajit & Hazra, Jayram & Mitra, Achintya & Abedon, Bruce & Ghosal, Shibnath. (2008). A Standardized Withania Somnifera Extract Significantly Reduces Stress-Related Parameters in Chronically Stressed Humans: A Double-Blind, Randomized, Placebo-Controlled Study. Journal of American Nutraceutical Association. 11. 50-56.