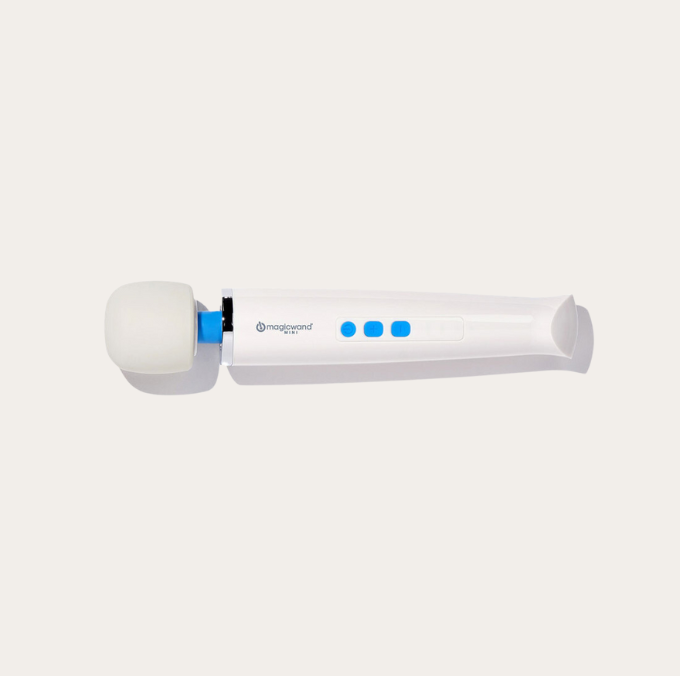 Magic Mini Wand
The OG Wand
Compact enough for travel, but powerful enough to be the MVP of the toy box, the Magic Wand Mini offers up to 2.5 hours of cordless use on a full charge, and the intuitive buttons allow for complete control of its three intensity levels. 
• 3 Levels of Vibrations
• Registered with FDA
Benefits

The legacy OG product that broke the internet back in the day. Use it externally all over your body and sensitive parts.

3 vibration levels
Small and compact for travel
Rechargeable
How To Use

Explore your body with 3 different vibration levels. Can double as a great massager. What's Included: - Magic Wand Rechargeable MINI - Charging Cord - 1 yr warranty
Material/Ingredients

Silicone, ABS Plastic Package Dimensions: 9.84in x 3.35in x 3.75in Power source: 100 – 240V electrical outlet High capacity motor Up to 2.5 hours of run time on a full battery charge Three speeds: approx. 3,500 / 5,000 / 6,000 RPM Weight: approx. 9.7 oz. Cord length: 6 foot Plug type: US polarized *Registered with the FDA as a medical device
FAQs

1) How does this work?

This mini wand is cordless and rechargeable. Explore your body all over with yourself or your partner to feel the sensations.