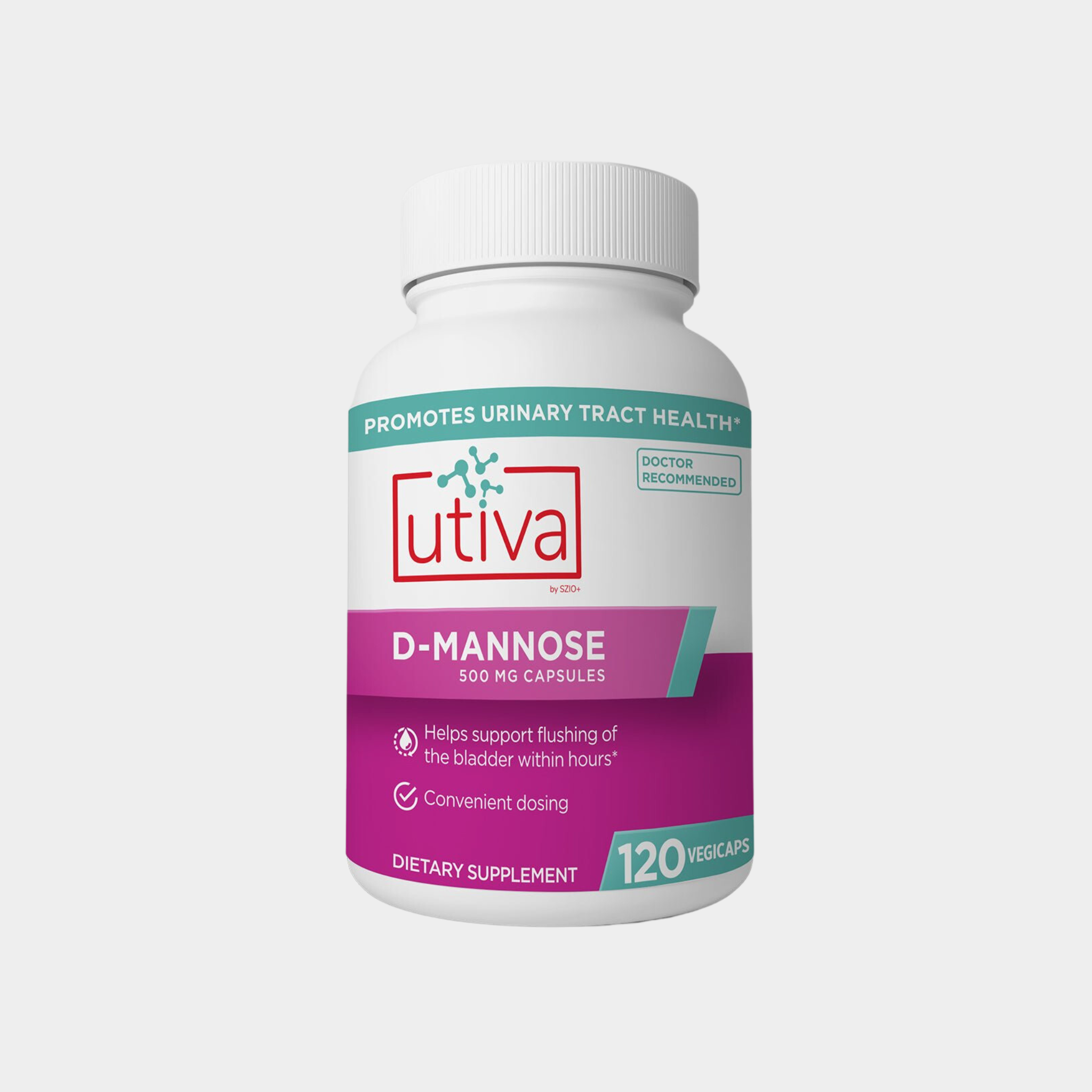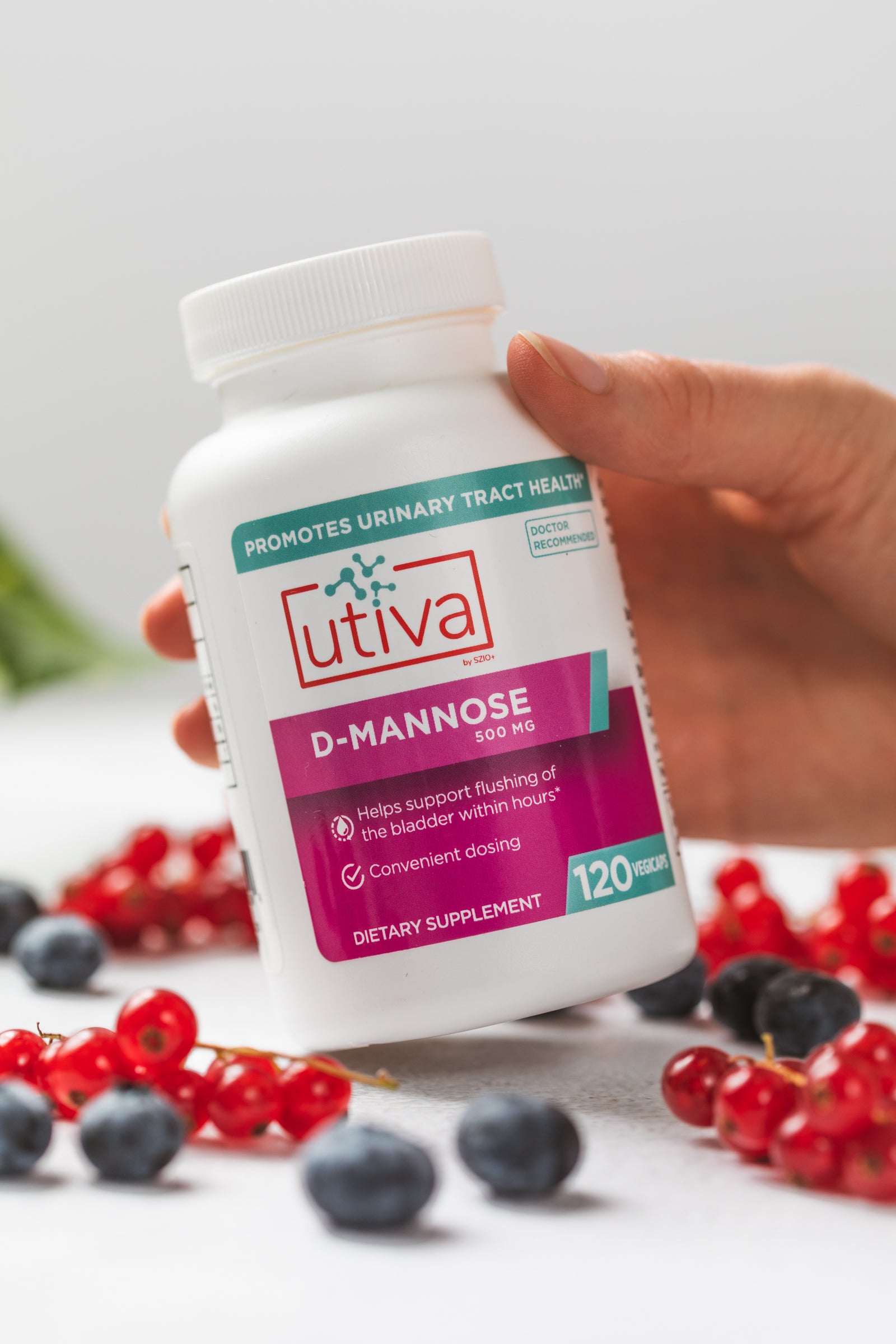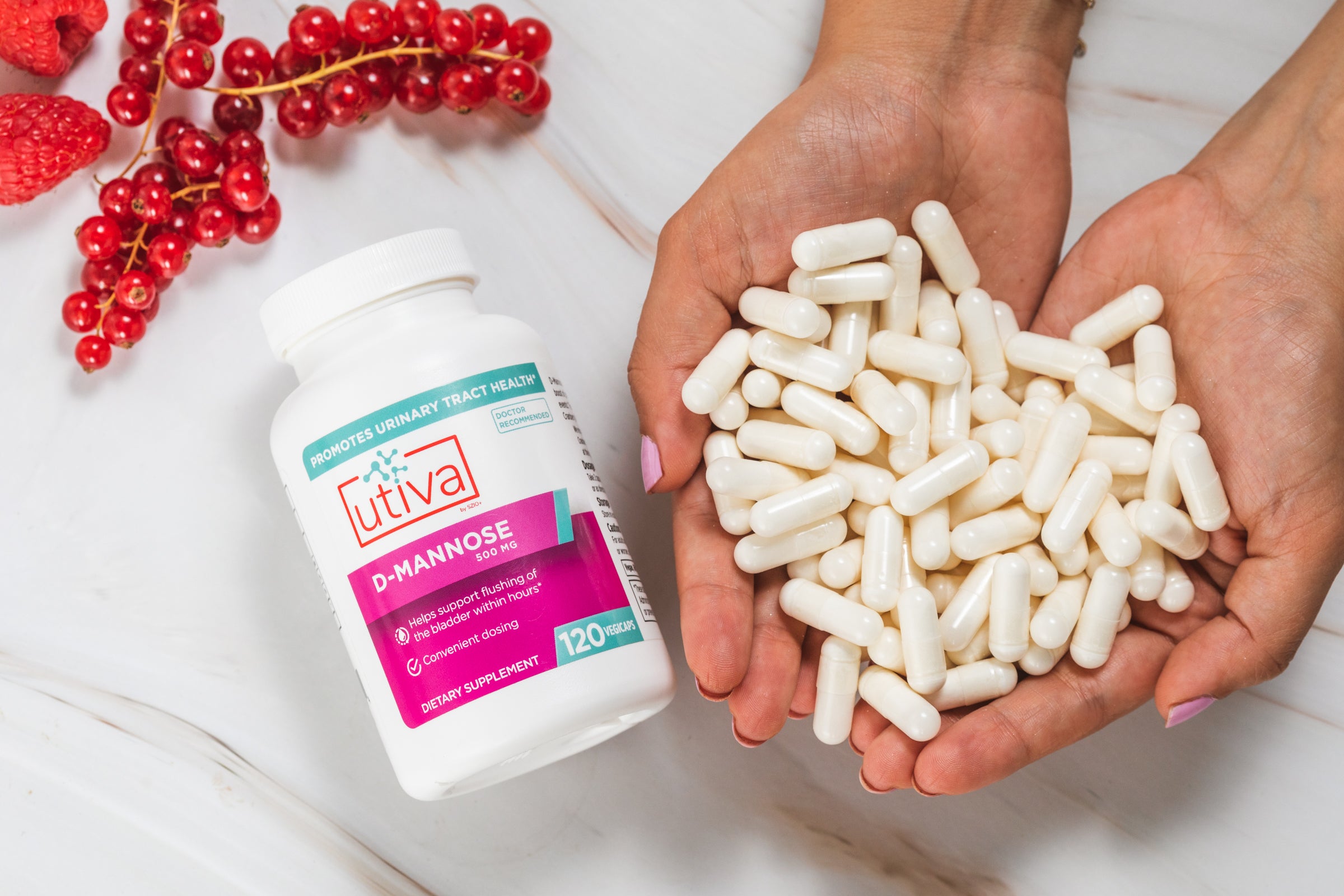 D-Mannose Supplement
Treat That UTI
An effective option providing that extra boost of strength to maintain a health urinary tract* and flush out the toxins, fast!
• Third Party Tested
• Clinically-Proven
• Antibiotic-Free
• Fast-Acting
Benefits

FAST ACTING. Helps promote natural flushing*.
BACKED BY SCIENCE. Helps provide great support to maintain a health urinary tract*.
CLEAN FORMULATION. Minimal amount of fillers, no artificial ingredients and locally made under strict standards in a cGMP facility.

Vegan
Halal
Gluten-Free
Antibiotic Free
Material/Ingredients

Utiva provides a pure source of D-Mannose that has shown benefits in maintaining a healthy urinary tract by helping stop bacteria from sticking.* Non-Medicinal Ingredients: Microcrystalline cellulose, magnesium stearate, hypromellose.
FAQs

Why Utiva D-Mannose? D-Mannose is trusted by healthcare practitioners as an effective option to help manage urinary tract health.*

100% Natural. Utiva sources raw materials from local sources that are GMP certified to ensure high performance and stability.*

Minimal amount of fillers, no artificial ingredients and all products are gluten, wheat, and dairy-free, and never tested on animals.*
D-Mannose is a clinically studied ingredient that is known to naturally flush the bladder.
D-Mannose is a high-quality supplement for urinary tract health from Utiva.. The recommended dose is at least 2,000 mg daily which is 4 capsules of Utiva-D-mannose.
Utiva Cranberry PACs is a clinically studied cranberry extract. PACs are the bioactive molecule from the cranberry. It is backed by physician guidelines and recommended for urinary tract health. Utiva Cranberry PACs is a once-a-day pill taken for daily support of the urinary tract. PACs are also the antioxidant of the cranberry and provide other gut health benefits.
For those patients who are chronic and are looking for a stronger approach, we recommend taking Cranberry PACs and D-Mannose. However these ingredients should be taken a few hours apart.
We recommend taking D-Mannose a few hours apart from Cranberry PACs. There is some clinical discussion on how D-mannose and PACs could be limiting each others performance when taken together. This is being further studied.
If you feel there is a likelihood that the acidity of cranberry can irritate you, D-Mannose is an option to consider. It will help naturally flush the bladder and has minimal impact on pH levels.
Side effects of D-Mannose may include bloating and loose stools. There is evidence that D-mannose may impact sugar levels, so people living with diabetes may want to consult a physician first. High doses of D-Mannose may also cause kidney damage. Always tell your doctor about any supplements you are taking, including natural ones and those bought without a prescription. That way, your doctor can check on any potential side effects or interactions with any medications.