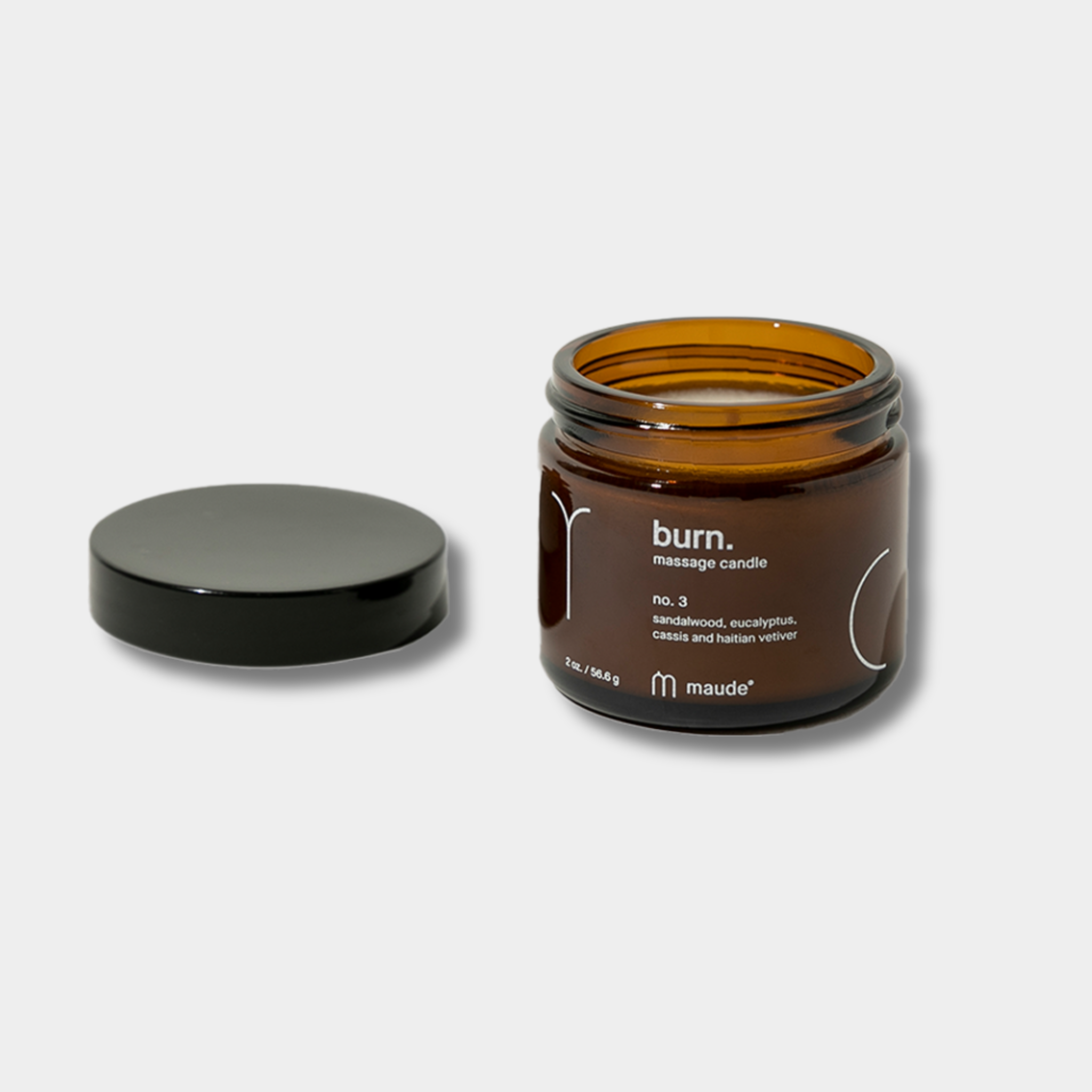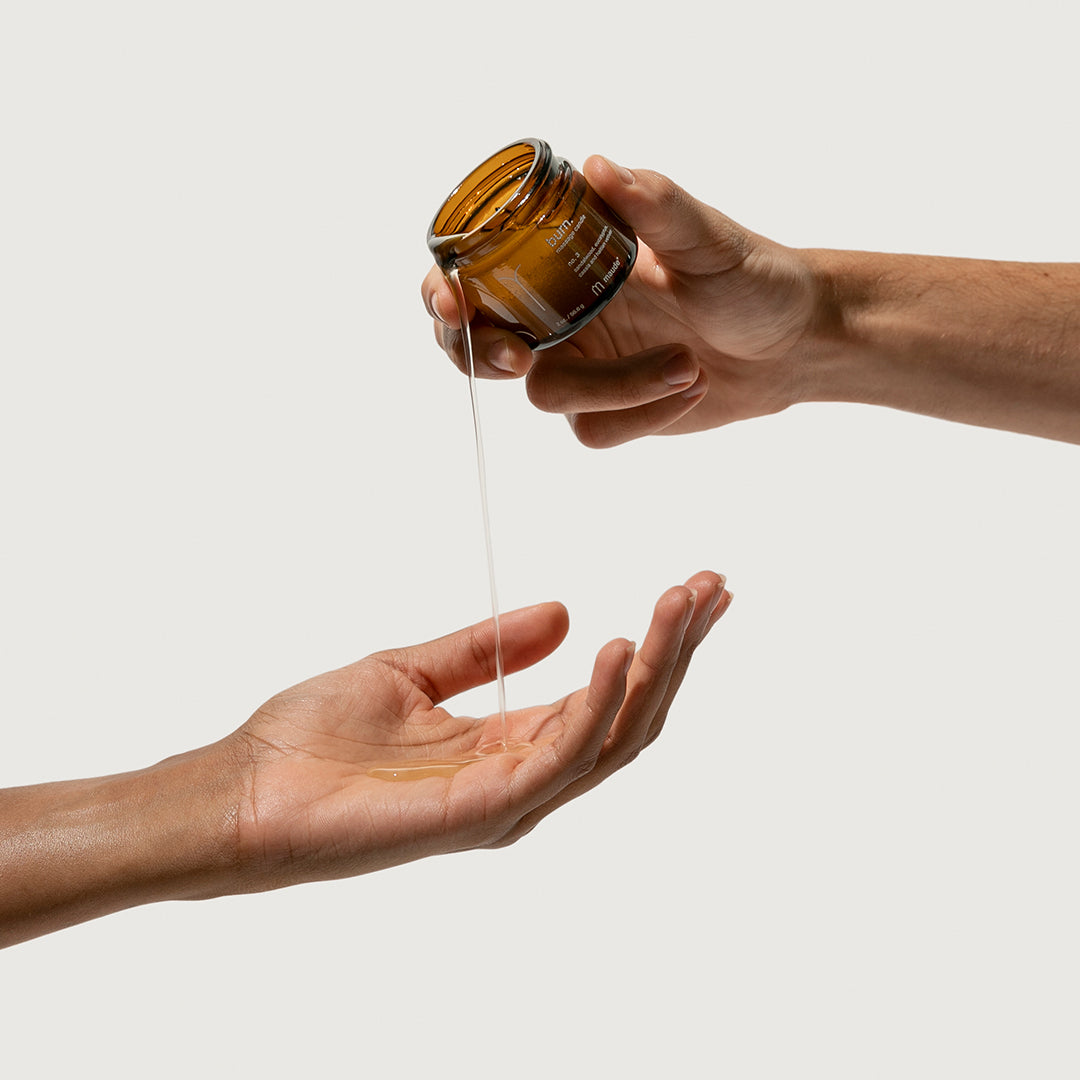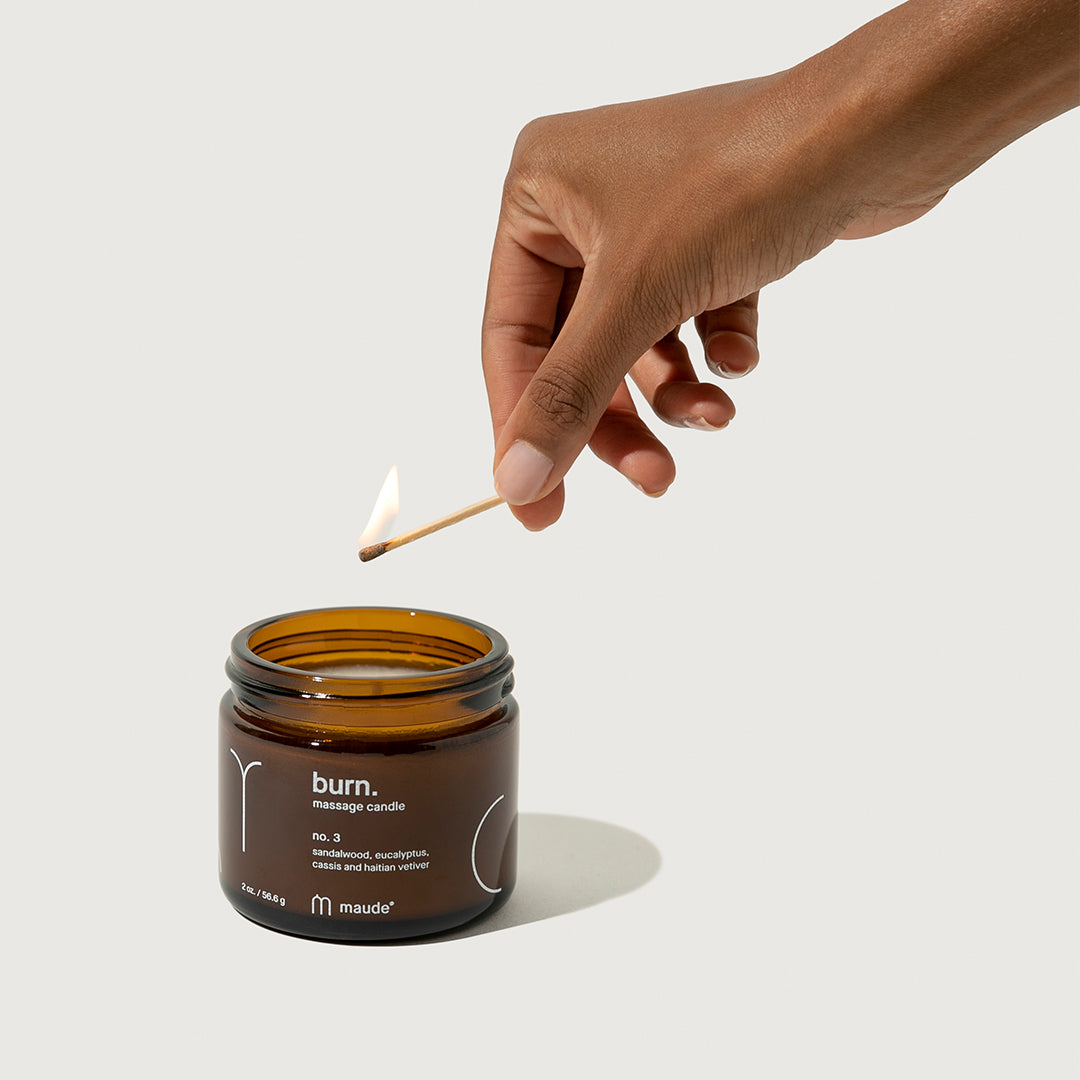 Burn Massage Candle No. 3
Play With Touch and Temperature
Set the tone of the evening with Burn No. 3 Massage Candle. Drizzled with fresh notes of eucalyptus, sandalwood, cassis and haitian vetiver. This candle is designed to drift your body and mind off into an evening filled with pleasure, sensation and touch. Made with skin-softening Jojoba oil and Soybean oils.
Scent: A blend of eucalyptus, sandalwood, cassis and haitian vetiver.
• Smells Like Musky, Earthy Arousal
• Vegan
• Doesn't Clog Pores
• Smooth Glide
• Cruelty-Free
• Sustainable
Benefits

100% cotton lead free wick

Low burning temperature

Ultra-hydrating

Phthalate-free

Glycerin-free

Paraben-free
How To Use

Usage: Light the candle for 10–15 minutes to allow enough oil to form (and it'll help set the mood). Once you blow out the candle, the melted oil is ready to use. Because it's oil-based, the candle has a lower burning temperature and will be warm. You can either pour the oil directly onto the skin, or apply with your fingertips and massage it in. The light and silky texture will moisturize and absorb into the skin, and can be reapplied as desired.

To extinguish your candle, gently blow out the flame and contain any smoke with the jar's lid. A wick snuffer works great, too. Never attempt to extinguish a candle using water.

Shelf life: 2 years
Material/Ingredients

*Jojobal Oil: Is full of skin-loving vitamins that moisturize and soothe dry areas.
*Sandalwood: Is known as an aphrodisiac.

Hydrogenated Soybean Oil

Ricinus Communis (Castor) Seed Oil

Cetearyl Alcohol, Parfum (Fragrance)

Lauryl Laurate

Olea Europaea (Olive)

Fruit Oil

Hydrogenated, Castor Oil

Cera Alba

Copernicia Cerifera (Carnauba) Wax

Euphorbia Cerifera (Candellia) Wax

Jojoba Oil

Benzyl Benzoate

Coumarin

Benzyl alcohol
Warnings

Prior to each lighting, cut the wick to 1/4" to avoid wick trimmings from accumulating in the wax pool and allowing the candle to burn evenly. Keep your candle burning in plain sight and away from flammable objects. Never leave a candle unattended or within children's or pets' reach.

These statements have not been approved by the FDA and are not intended to treat or diagnose any disease. Keep out of reach of children and pets.
FAQs

1) What is the best way to apply the melted oil?
The melted oil is ready to use after the candle is extinguished. Because of the low melting point of the natural oils that comprise burn, the oil does not require cooling. Pour the warm oil directly into your skin, or first pour a tiny bit into your hand and apply the candle oil with your fingertips.

2) What are the fragrance notes?
The aroma of Burn No. 3 is mild, with notes of eucalyptus, sandalwood, cassis, and Haitian vetiver. The melted oil from the candle can be massaged into the skin, or the candle can simply be used to perfume the room.

3) Are there any metals in the wick?
Nope, it is made with 100% cotton wick with a lead-free metal base.

4) Is it unsafe if the oil gets in my vagina?
We don't recommend using Burn oil for intercourse, in or on the vagina. Burn No 3 is vegan, phthalate-free, and contains mostly essential and natural oils. If it feels uncomfortable on any body part, wipe away with a towel.